MAY 2023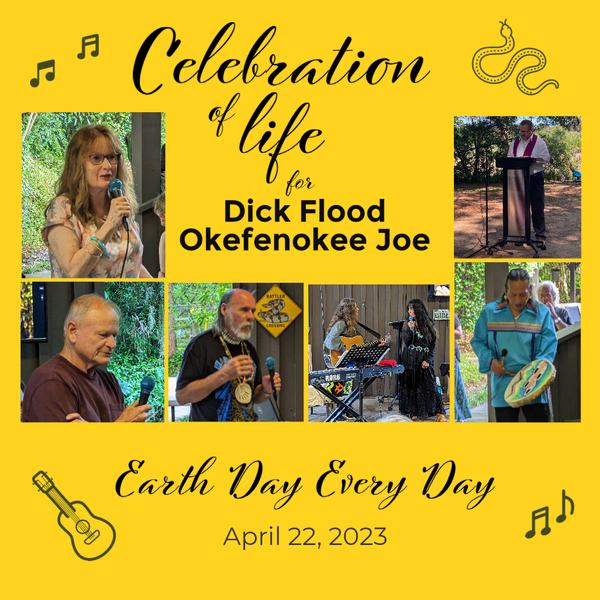 Welcome to the official Okefenokee Joe Enterprise newsletter May edition. The Celebration of Life for Dick Flood/Okefenokee Joe was held a week ago, Saturday, on Edisto Island, SC at Edisto Island Serpentarium. A special thanks to Teddy Clamp for hosting, Chaplain Travis V. Jones, M.Div., APBCC-HPC Staff Chaplain, Chaplain Services (125) Charlie Norwood VA Medical Center for service director and speakers - Melanie Hauner, Okefenokee Swamp Park, Jane Winkler, Tribal Liaison, Cherokee of Georgia and Grey Squirrel. Tribute video - Georgia Public Broadcasting. Musicians - Cherokee Rose, Selina, and Robin Jumper. Videographer - Ethan Payne. And a thank you to all who join us in celebrating our father, granddaddy, singer/songwriter, author, storyteller, musician, environmentalist - Dick Flood aka Okefenokee Joe, on Earth Day! ~ EARTH DAY EVERY DAY!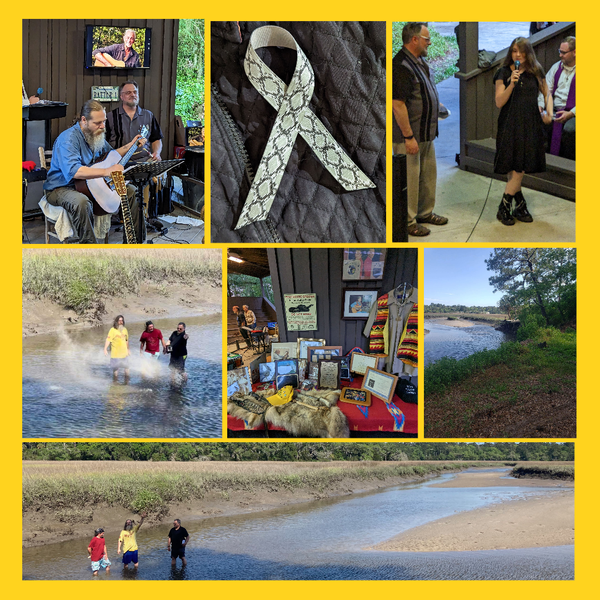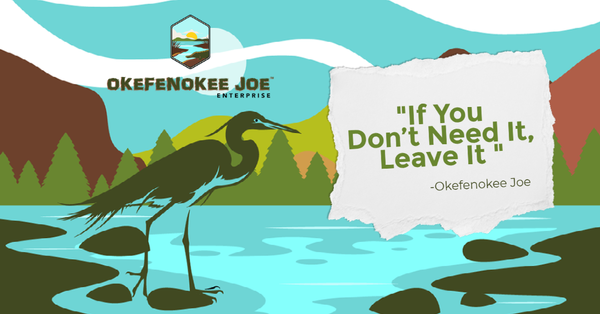 This is a transcript from Okefenokee Joe's series of recordings "Swampwise Secrets, Songs, And Stories From The Land of the Trembling Earth".  This is an excerpt from Volume ONE:
IF YOU DON'T NEED IT, LEAVE IT
Each day that went by in the Okefenokee Swamp, I became more amazed at the astonishing facts I was learning from the attitude and behavior of the wild animals under my care.   Movies, cartoons, comic books, and such about wild  animals are fun, and enjoyable.  Because I have loved animals all my life, I have enjoyed those things immensely.  I was now learning the facts from the animals themselves, and oh, what a difference!  How much more interesting, fascinating, and intriguing wild animals had become to me!
To begin with, the simple fact that each one will eat only what it was created to eat, and will absolutely not touch any other type of food!  That's an important feature to understand.   For one thing it shows strength of character on the part of the wild animal.  And it helps to open the door to a much broader understanding that, without question, wild animals obey "Nature's Rules of Conduct"!  There is a whole chapter in my book, "Swampwise" about those rules.  It explains in detail a lot of what I was learning, as I lived there in the swamp alone, and so close to the earth!
Without question every plant and animal, every living thing in the natural world of God's creation for it's entire lifetime obeys one simple but important rule.  It is the most important rule of all.  I call it "The Golden Rule of nature"!
And any wild animal could teach us that rule.  A Red Tail Hawk could do it.  So could a Virginia White Tail Deer.  But those animals are hard to keep up with out there in the woods.  We would lose sight of them, and never know what they were up to or what they had done.  When I tell people which animal first taught me the Golden Rule of Nature, some people think its funny, and they  laugh.  But its true.  A tiny ant taught me.   And if you think I am kidding about that, the next time you see an ant before you squash it, watch it!
As the ant walks across the earth you will notice that it will touch, and thoroughly investigate everything it comes to, but it will take nothing, it will change nothing, or harm nothing, until it finds what it is looking for.   For example it might go up and down a blade of grass several times investigating, but it will not harm that blade of grass.  When it finds what it is looking for, which is usually food, like a wounded grasshopper, it will carry it back to the nest, and share it with the entire colony.  If the food item is to big to carry, it will go back to the nest, and alert its colony, and hundreds of working ants will come and tear small pieces of edible parts from the body, and carry them back to the nest.  Part of the job that God put the ant on earth to do is to clean up the mess that others leave.
The teamwork of all living things in the natural world strictly obeying the Golden Rule of Nature is what made the earth, and keeps the earth suitable habitat for humans.  To me it is the most important rule to follow, when it comes to how we humans treat the earth we live upon!  I wrote this song in such a manner, that hopefully, even a child could understand the concept of "The Golden Rule of Nature".  "If You Don't Need it, Leave It!"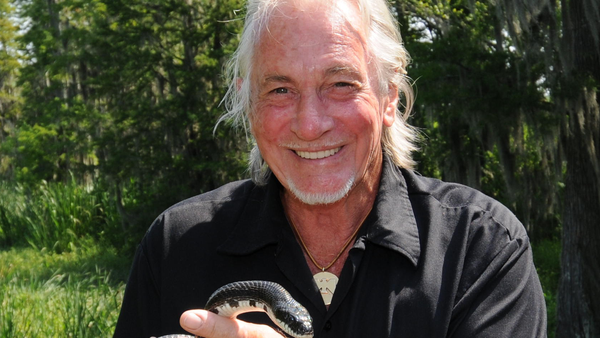 Okefenokee Joe 1932 - 2023
Richard "Dick" Flood also known as Okefenokee Joe, 90, passed away on Monday, January 9, 2023, at the Charlie Norwood VA Medical Center in Augusta, GA. Family and friends paid tribute to him at a Celebration of Life and ceremony, on April 22, 2023, 'Earth Day', at Edisto Island Serpentarium, on Edisto Island, SC. Rest in nature's peace!