APRIL 2023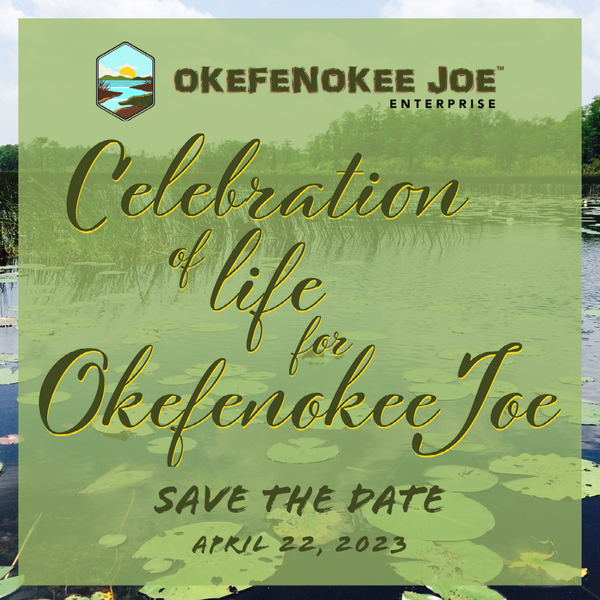 Greetings Family & Friends,
Welcome to the Okefenokee Joe Enterprise April newsletter. This special edition includes the Celebration of Life for Okefenokee Joe/Dick Flood scheduled on April 22, 2023 from 5:00 - 7:00 PM held at the Edisto Island Serpentarium in SC. Seating is limited and registration is required. Please sign up on the form at the website www.okefenokeejoe.com. Times and agenda details are scheduled to change.
Special guest speakers and participants expected: The Okefenokee Swamp Park, Cherokee of Georgia, Georgia Public Broadcasting, etc. Plus, special music performances and the US Army Rite Accorded salute.
Parking for the celebration is available at the back of the serpentarium. Recommendations for overnight lodging is available through AirBnB.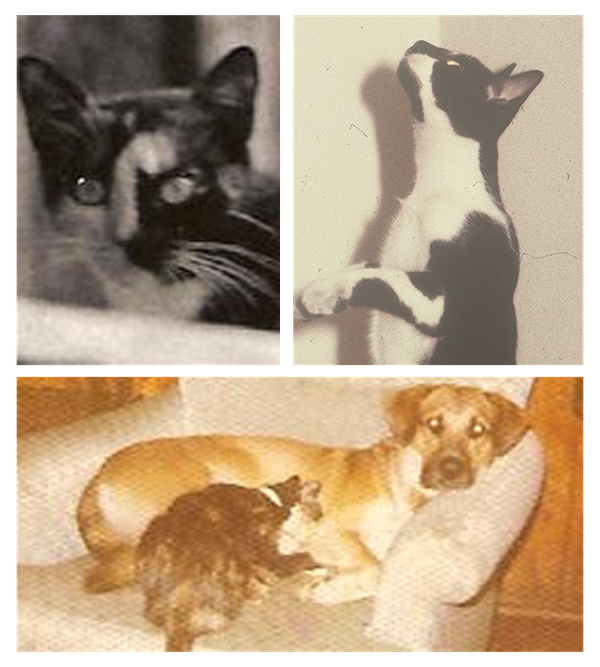 The following is a transcript from Okefenokee Joe's series of recordings "Swampwise Secret, Songs, And Stories from the Land of the Trembling Earth". This is an excerpt from Volume One called Skeeter - The Calico Cat.
I found Skeeter in an empty fifty-five-gallon trash drum.  Just like Swampy someone had left her behind.  I should say that it was Swampy that actually found her, because he is the one that brought my attention to that trash drum.  The drum was empty except for that kitten and several thousand mosquitoes.  She looked to be about four weeks old.  A calico and she was beautiful.  She was so tiny she fit right in the palm of my upturned hand.  I brushed the mosquitoes off of her, and I told her, "You are a cute and precious little thing.  You're gonna' come to our house and be part of our family.  Because you were covered with all those mosquitoes when I found you, I am going to call you "Skeeter", and your job will be to catch the mice around our home."  
We took her home, and she became the boss of the house the minute we got there! She didn't purr much, but she had learned how to meow, and boy could she meow!  You could hear her a block away. I remember her sometimes smacking Swampy's tail with her front paws, when I would reprimand him about something he had done wrong.  She was struck by lightning, several times I saw her fall out of a tree, one night she chased a opossum out of the chicken house, and I'll never forget the night she actually carried on a real live conversation with me. Thats right!  She actually talked to me!  I couldn't believe what I was hearing!  We had just finished supper, and I was downing my last cup of coffee, when I distinctly heard her say to me, "I wanna' go out now." Swampy heard it too, and he looked at her with a puzzled look on his face.  And I asked, "What did you say?" And she said it again.  Just as plain as day, "I wanna' go out now." I couldn't help but ask her again, "You want to go out now?" And she said, "I wanna' go out now!" I asked her one more time, "You wanna' go out now?" And believe it or not she answered with, "Yeah!" I got up from my chair, walked to the door, opened it, and she ever so calmly walked out the door.  Swampy followed her out the door.  She never did that again.  
I loved my little calico cat.  Just like my dog Swampy.  Each one of them has a whole chapter devoted to them in my book "Swampwise".  We shared many an adventure together on Cowhouse Island in the Okefenokee Swamp.
Purchase "Swampwise Secret, Songs, And Stories from the Land of the Trembling Earth" and other really awesome stuff store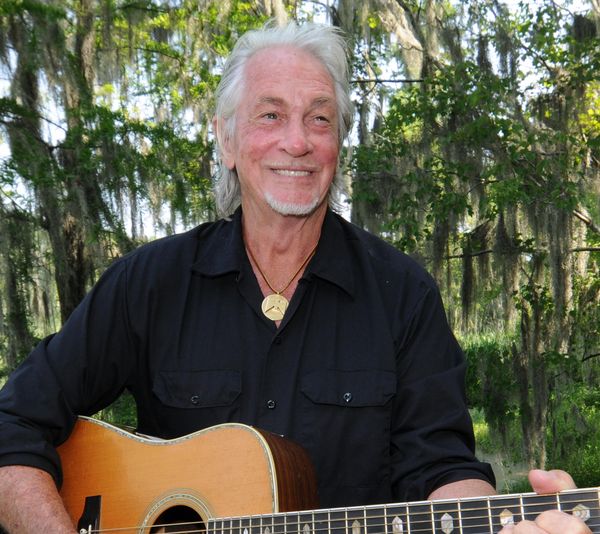 Okefenokee Joe 1932 - 2023
Richard "Dick" Flood also known as Okefenokee Joe, 90, passed away on Monday January 9, 2023 at the Charlie Norwood VA Medical Center in Augusta, GA. Folk Funeral Home, Inc. and Crematory is assisting the family with arrangements. A Memorial Service for Okefenokee Joe will be held on Edisto Island, SC with the US Army Rites Accorded on 4/22/23.
Please sign up to register on www.okefenokeejoe.com.